Seasonally Inspired,
Sustainably Sourced
perrine_hero_dsc9724-632b39ca6b90e.jpg
perrine-heroshot-2-5d5da617a0d70.jpg
perrine-heroshot-1-5d5da6106db03.jpg
perrine-heroshot-3-5d5da61c10bae.jpg
The Pierre New York, A Taj Hotel
Seasonally Inspired,
Sustainably Sourced
A classic restaurant near Central Park
Located in the iconic Pierre Hotel on Manhattan's Upper East Side, Perrine is polished yet relentlessly playful. Under the direction of Executive Chef Ashfer Biju, the farm-to-table restaurant's seasonally inspired menus skew toward what's fresh and fun - a parsnip here, a peach there, chilies to spice things up, cucumbers to cool things down. The end result, naturally, is the kind of unexpectedly indulgent dining you dream about all day, every day.
Hours of operation
HOURS OF OPERATION
BREAKFAST 7:00 am - 10:30 am
BRUNCH - Saturday & Sunday 11:00 am - 4:00 pm
LUNCH - Monday to Friday 11:30 am - 3:30 pm
DINNER - 4:30 pm - 10:30 pm
BAR 4:30 pm - 12:00 am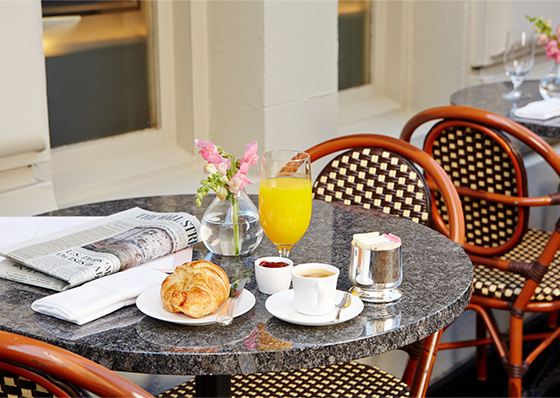 01 / 02
Welcome back!
We couldn't be happier to welcome friends old and new back to the Upper East Side's favorite neighborhood restaurant. We've made a few changes, naturally, to ensure your comfort and safety, including a new layout with enhanced seating at the bar, socially distanced tables, and outdoor dining on the Rose Terrace. Join us for drinks and dinner!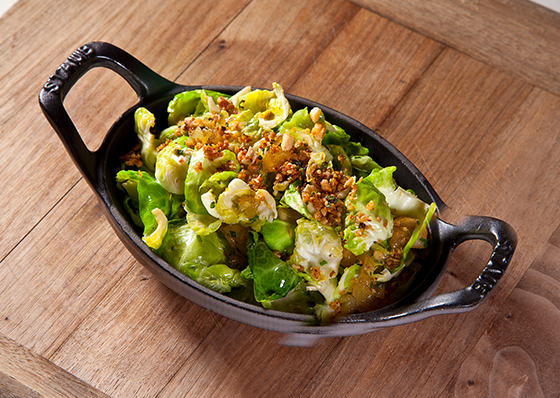 02 / 02
We're Blushing
Consummate food critic John Mariani showers praise on Perrine for our "New York Glamour And Classic American Cuisine." Read on to discover the dishes he can't stop thinking about.
Al Fresco
Dining On The Rose Terrace
Be transported to the South of France on our intimate Rose Terrace. An unrivaled setting for dinner alfresco, our charming open-air terrace offers beautiful bistro-style seating with all the requisite social distancing and fragrant sidewalk gardens.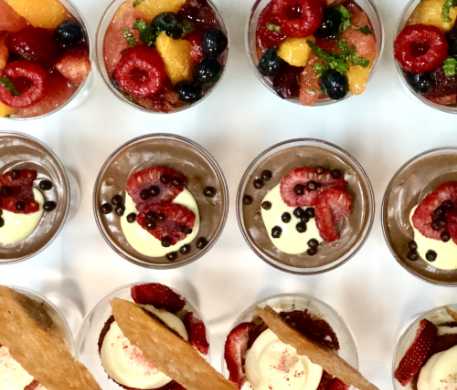 Events & Holidays
EASTER SUNDAY AT PERRINE | April 9, 2023
Celebrate Easter at Perrine this year! Join us on Sunday, April 9th, 2023 as we host a special brunch to commemorate the holiday. Enjoy a traditional bagel & lox station and carving stations featuring grass-fed lamb while awaiting your entrées to be served at your table. Kids can take part in our interactive activity Eggscetera!, where they can decorate their own Easter egg cookie and explore a mouth-watering display of chocolate Easter eggs.
01 / 02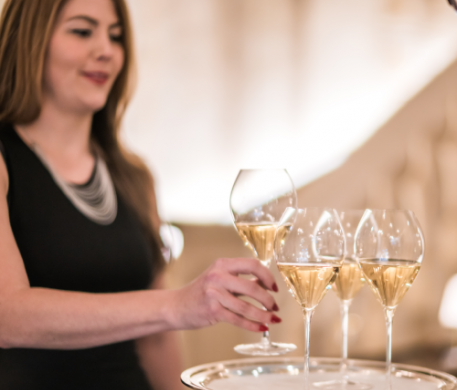 Events & Holidays
Chef's Social Club Event | April 27, 2023
Indulge in the aromas of food and fragrances in a powerful pairing of curated menus and iconic luxury. Individuals from all walks of life are welcomed to gather and enjoy a unforgettable dinner on April 27, 2023 from 6:30 pm to 9:30 pm.
02 / 02
Private Dining
Rotunda
75 guests standing; 40 guests seated
With its trompe l'oeil murals and soaring frescoed ceiling, the Rotunda is quite possibly NYC's most stunning setting.
Reserve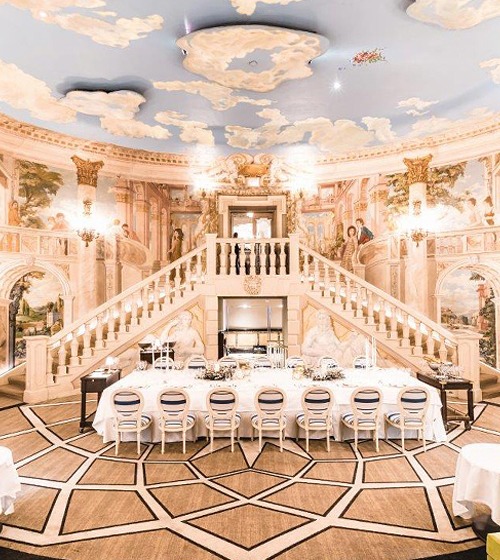 01 / 03
Private Dining
Perrine - Full Dining Room
130 standing; 85 seated
Showcasing the works of local artists, our intimate restaurant near Central Park is a delightfully artful setting for a private lunch or dinner.
Reserve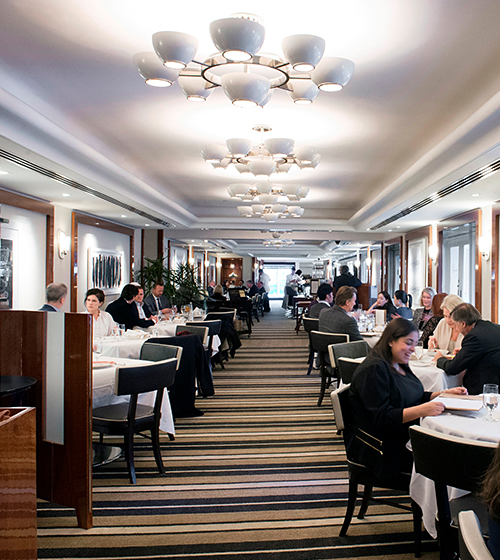 02 / 03
Private Dining
Perrine (back half)
80 standing; 65 seated
At your next party, dine at Perrine for the stunning view you could only get from our Central Park restaurant. The dining room can be segmented for smaller parties.
Reserve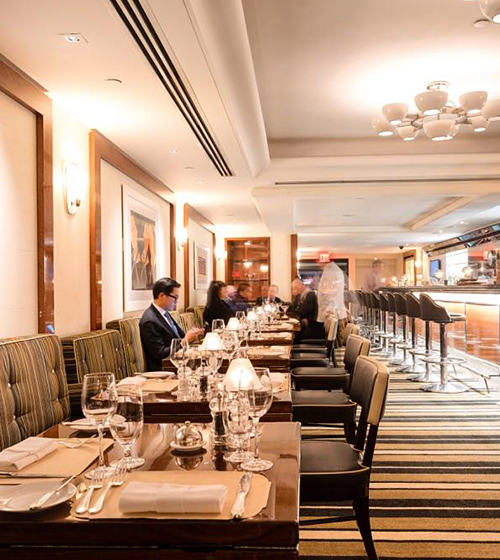 03 / 03
Farm Fresh Sustainability
At Perrine, we're dedicated to keeping all menus seasonal and reducing our carbon footprint by sourcing the best local and regional ingredients. Nearly half of Perrine's food products come from the tri-state area, Pennsylvania, Vermont, and Massachusetts. At this NYC farm-to-table bistro, we proudly support artisanal and local growers, in addition to working with sustainable food programs and vendors.
Reviews we Love
"As of now, my favorite hotel restaurant."
Kathryn H., Yelp reviewer
"Nourriture Délicieuse. Ambience is quiet yet warm and interactive"
Ron C., Yelp reviewer
"The most upscale and friendly neighbors you've ever had."
Jeanne P., Yelp reviewer
The Team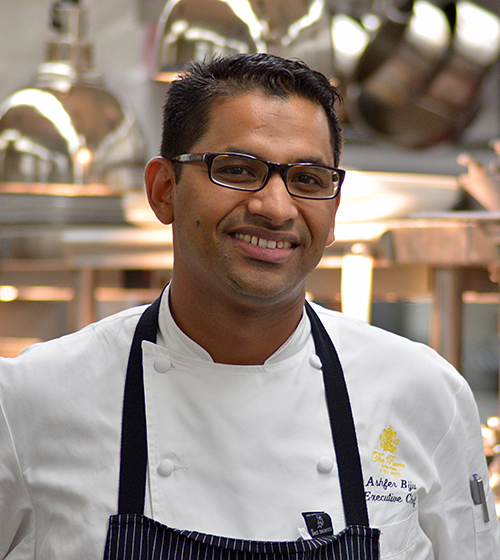 01 / 02
Ashfer Biju
Executive Chef
Ashfer Biju brings a worldly vision inspired by regional ingredients to Perrine. He has designed a refreshing balance of innovative creations and classics representative of beloved dishes from The Pierre's vintage menus.
Learn More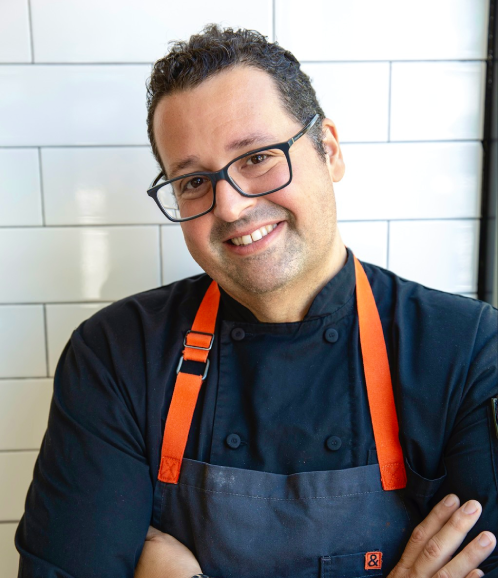 02 / 02
Michael Mignano
Executive Banquet Chef
The Pierre NY, A Taj Hotel is pleased to announce the return of Chef Michael Mignano to the Pierre family as Executive Banquet Chef. Michael has had a long and rich history with The Pierre both under Four Seasons and Taj. Michael brings close to 30 years of culinary experience with a passion for the pastry arts.
Michael works closely with Executive Chef Ashfer Biju to create banquet menus including menus for the newly reimagined Grand Ballroom. Recognized by Dessert Professional magazine in 2017 as one of the Top 10 Pastry Chefs in America and partnered to successfully launch the very first halal bakery/restaurant, Farine Baking Company in New York.
Ashfer Biju
Executive Chef
Ashfer Biju brings a worldly vision inspired by regional ingredients to Perrine. He has designed a refreshing balance of innovative creations and classics representative of beloved dishes from The Pierre's vintage menus.
Raised in a family of restaurateurs near Kerala, India, Chef Ashfer grew up with a passion for seafood. After earning his hospitality degree in India, he found his burgeoning career taking him all over the globe—from the Culinary Institute of America to kitchens in Napa Valley, the Maldives, Jean-Georges in London, and throughout Southeast Asia.
In addition to Perrine, Chef Ashfer oversees The Rotunda, Two E Bar & Lounge and special events in The Pierre's legendary function space. He manages a team of 50 cooks and seven sous chefs that, during the busy season, serve up to 5,000 people per day.
We'd Love to Stay in Touch